Ann Arbor Massage Triumphs Over Modern Painkillers, New Study Shows
Posted by: Mary Miller
Tylenol and similar drugs are usually the go-to pills for pain, especially back pain. Imagine the medical community's surprise when a study found out that they're only as good as placebos.
A study jointly funded by the Australian government and pharmaceutical giant GlaxoSmithKline tested acetaminophen, another name for paracetamol, on more than 1,600 individuals. They were divided into three groups: one to take Tylenol three times a day, another to take Tylenol only when necessary, and a third to take dummy pills. The results were astounding.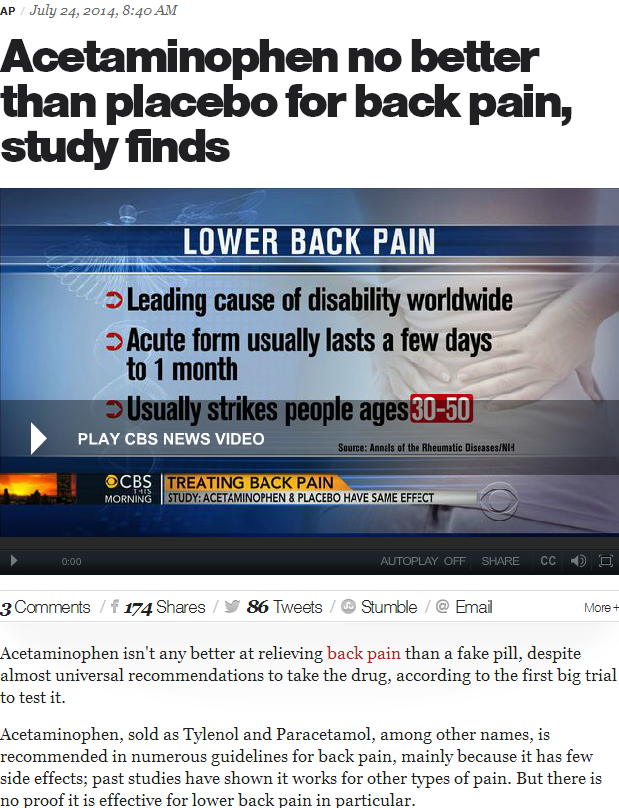 Scientists found no major difference in the time it took people to recover: Those on acetaminophen got better after 17 days while those who took dummy pills recovered after 16 days. The study focused on the kind of back pain most people experience, resulting from lack of exercise, bad posture, or a strain.
Introduced in 1955 as an analgesic for children, Tylenol is one of the most widely-known drugs in the U.S. In 2008, it sold almost 25 billion tablets in the country. While touted for its efficacy, acetaminophen in general is currently in the hot seat due to doctors unnecessarily prescribing the drug. It forced the Food and Drug Administration to limit prescription to 325 mg.
If Not Pills, Then What?
According to CBS News medical contributor Dr. Holly Phillips, the best treatment for any pain doesn't involve any pills at all.
Massage therapy, over the years, has shown its effectiveness in dealing not just with lower back pain but with other types of pain too. In 2011, researchers at Group Health Research Institute in Seattle found out that subjects who received massage therapy felt better after only ten weeks. Half a year later, the same subjects reported improved body function.
In retrospect, an Ann Arbor massage therapist knows a hundred ways to relieve patients of their pain. One of these is reflexology, which involves the application of proper pressure to various pressure points in the hands or feet. Not only is it effective against body pain, reflexology has also shown its efficacy against diseases like asthma and diabetes.
So, if you ever feel your lower back acting up again, visit an Ann Arbor massage expert such as Main Street Massage Therapy for a 45-minute reflexology session. Don't wait for the pain to get more unbearable; you can only keep the pain for so long before it takes its toll. Keep coming back to your therapist for as often as necessary for long-lasting relief.
(Source: "Acetaminophen no better than placebo for back pain, study finds," Associated Press, July 24, 2014)